Audio Engineering & Music Production – Hourly Classes & Training
Audio Engineering – 12 Hrs Private Lessons + 8 Hour Session + Lab Time. 
AE101 – $1500 – Course Description:
Students learn how to produce professional multitrack recordings, ADR & Voiceovers, FOH sound, and sound design projects while working in our professional studio environment. Students will have access to a professional acoustically treated studio, great equipment, and the space for creativity.
Students will meet weekly for 3 Hr lessons with their instructor to learn everyday techniques of professional Audio Engineers. Classes will then work together with a production team to practice those techniques in the studio with a full-day live production. Students will also have access to our state-of-the-art facilities for their in-studio assignments and to work on their personal projects.
Suggested Software & Materials: Pro Tools / Waves (Not Included but available in studio)
Music Production – 12 Hrs Private Lessons + 8 Hours Session + Lab Time.
MP101 – $1500 – Course Description:
In this course we explore beat making, sound design, sequencing, midi, and much more! Students will learn how to truly harness the power of Ableton, speed up the creative process, and quickly produce quality productions in-studio that translate to all platforms. 
Classes will meet weekly for 3 Hr lessons in the studio with your instructor for in depth lessons into the art and science of Music Production. Students will collaborate with other students and recording artists to remix projects and work on assigned production projects. Weekly deliverable assignments will keep you growing as an artist and give you the tools to independently release great music, quickly.
Suggested Software & Materials: Ableton / Waves (Not Included but available in studio)
Course Overview
Our courses are specifically designed to be complete and comprehensive on their own. We recommend our students complete over 100 hours in each focus of study to have a full understanding and the experience necessary to be considered for a career in these fields. Our Courses will supply the student with the credited experience on professional productions and a solid portfolio to stand out from other similar programs. 
Recommended Equipment:
Most Lectures, Labs, and Sessions are all held in-person at our Santa Cruz studio. We recommend students have their own DAW, laptop, interface, microphone, and headphones to practice at home. For students that need access to these materials we do offer packages with additional studio time or will loan out these to the student but, we recommend the student have their own.
Software:
We work primarily in Pro Tools, Ableton, as well as use a large variety of plug-ins. Students are strongly recommended to buy their own software. We can offer an academic discount. Students will also want to start to build their plugin and sound libraries. We often will receive trials or sample libraries that we share with our students. 
Pro Tools
$299.00 Perpetual License—Education Pricing (Recommended)
Ableton
$269.00 Standard – Education Pricing / *$449.00 Suite – Education Pricing – (Recommended)
Live comes in three editions: Intro, Standard and Suite. They share common features, but Standard and Suite have additional features, instruments, Packs, and effects.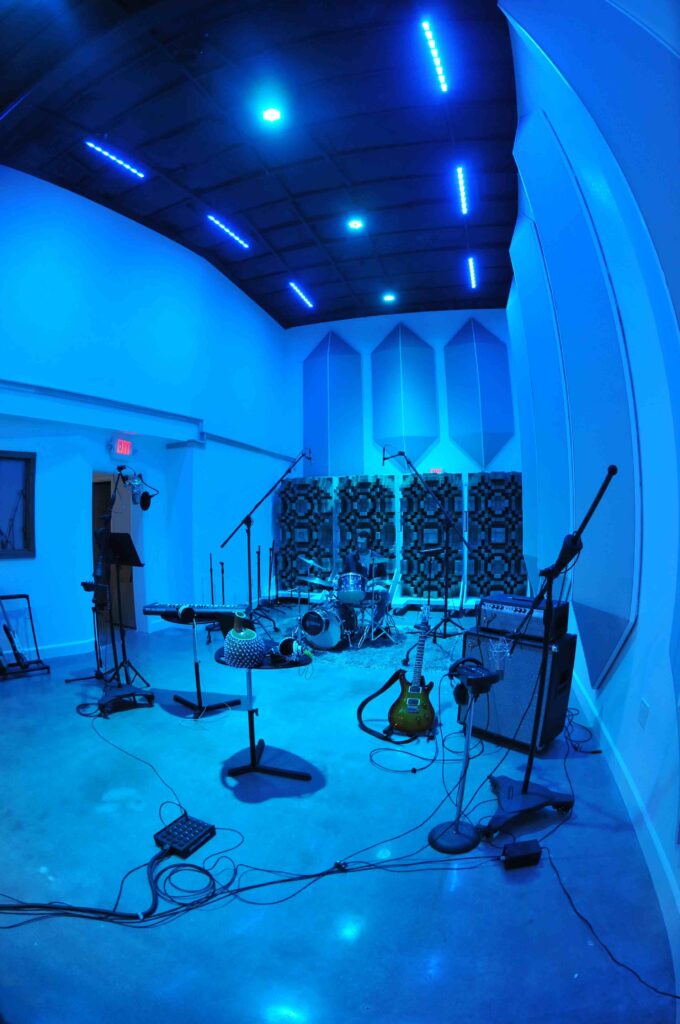 Private Lessons
$100 / Lesson 
Are you looking for help with your mix? Want to learn more about compression? Need to know how to get your home studio to work? Let us help you take the guesswork out of the process and give you the answers you are looking for, so you can get back to creating. 
4 Private Lessons
$350 (SAVE $50) 4 – Lessons
Let us help you reach the next level of your content creation goals with a weekly schedule of lessons tailor-made to work on your productions. Build your confidence within professional production software and learn the workflow tips and tricks gathered from decades of experience. 
Ready for a free lesson? Hit us up!
We offer every prospective student an opportunity to come into the studio for a tour and FREE LESSON! We can give you a clear idea of the classes we offer and discuss what to focus on to reach your production goals.